My problem with the historic sites (Crosby House and the Henderson House) in the old downtown Tumwater is that they have no context.
Whatever else was there before Capitol Way sucked the life out of it and I-5 buried it has been stripped away and replaced with newer roadsides, grades, landscaping and a big massive freeway. When you head north on Deschutes Way from Boston Street, you're going through the old downtown. But, there is nothing to really tell you that, even though a lot of the historic buildings were replaced by a flat grade on the edge of the Olympia Tumwater Foundation's Falls Park and the open flatness of the city's Historic Park.
Having some context of what was actually there, giving physical dimension to what is now open fields and cyclone fence, I think would be important. I'm certainly not suggesting rebuilding the historic town.
This isn't the first historic collection of buildings that have disappeared and replaced by open area.
I would suggest something like this: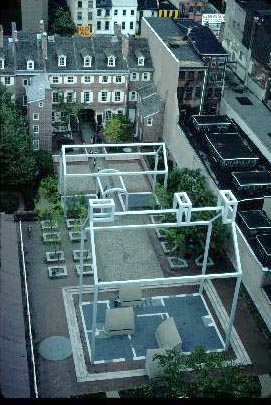 Franklin Court is the site on which the home of Benjamin Franklin once stood. Franklin resided with his family in smaller row houses in the neighborhood prior to living here.
…
Since archaeologists have no exact plans of the original house, a simple frame in girders indicates its dimensions and those of the smaller print shop. Excavations have uncovered wall foundations, bits of walls, and outdoor privy wells, and these have been left as protected cutaway pits. It is all very interesting, but enter the exhibition for the really fun part. After a portrait and furniture gallery, a mirrored room reveals Franklin's far-ranging interests as a scientist, an inventor, a statesman, a printer, and so on. At the Franklin Exchange, dial various American and European luminaries to hear what they thought of Franklin.